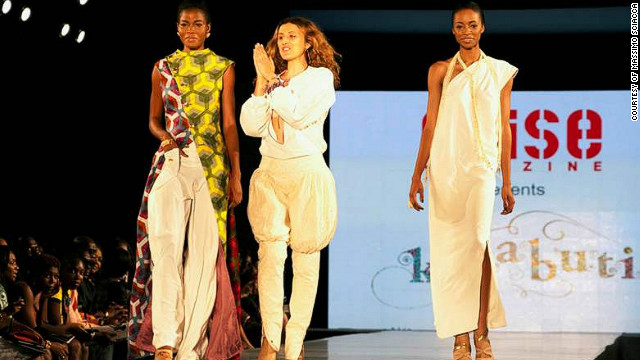 (CNN)They test masculinity and celebrate indigenous African prints in new ways.
These crop of designers are ones to look out for at the Lagos Fashion and Design Week starting October 25 to 28.
Since it was established in 2011, the Lagos fashion and design week has become the most important fashion event in Africa, shining a spotlight on local designers.
Of the 49 designers showing this year, CNN spotlights ten designers who will be unveiling their Spring Summer collections.
Style Temple
HARLOW ONE-SHOULDER BLOUSE x MARYLIN MIDI SKIRT ______________ #PRE-SPRING 18 #STYLETEMPLE #madeinnigeria🇳🇬
Og Okonkwo's Styletemple was one of the most talked about collections at the 2016 Lagos Fashion and Design Week. Her SS17 shirtdress collection featured a lot of frills and deconstructed shirts. The brand prides itself on creating a balance of modern and classic designs.
Orange culture
Stockist Alert! HELLO NEW YORK! #shippingfarandwide You can now shop Orange Culture SS17 Pieces on @oxosi – www.oxosi.com – link in bio to our introductory Editorial💥💥 #Repost @oxosi ・・・ New @orangecultureng has arrived on OXOSI.com / link in bio. #vivaAfrica Creative direction — @akinadebowale Photography — @amandlabaraka Styling — @kindramone Models @daniellemareka @okvinchenzo
Popular for its fresh take on menswear, Adebayo Oke Lawal's Orange culture is charting a fresh path for male fashion.
His collections, which are seen to test traditional concepts of masculinity, incorporate non-traditional menswear fabric like organza and silk.
His pieces have garnered wide international attention with a following of over 68,000 on Instagram.
Ejiro Amos Tafiri
Weekend Style Inspiration off the #RuralParadise Collection. Cheers to the weekend🍹 Which is your favourite look? #EAT #EATWoman #TGIF #Style
Launched in 2010, Ejiro's self-named brand is popular for embracing
femininity
.
Her SS17 collection at the 2016 Lagos Fashion and Design Week incorporated an abundance of fluid and sheer fabrics.
At the 2015 Lagos Fashion and design week, Tafiri won the coveted "Best fashion Designer award"
Tsemaye Binitie
C A U G H T H E I R E Y E S // Eastside n**#%a with the feets high // LOOK12 —> hand embroidered silk satin sleeveless dress // 'Made to order' only —> info@tsemayebinitie.com #callus #youcouldlookbetter #tsemayebinitie #tsemayebinitielondon #tsemayebinitieng #tsemayebinitiegirls #london #nyc #nyfw #newyorkfashionweek #paris #lagos #abuja #nigeria #designer #dress #SS17 #SS18 #style #streetstyle #wwd #vogue #fashion #instafashion
Nigerian born designer, Tsemaye Bintie's design aesthetic reflects his love for architecture. The contemporary women's brand prides itself in creating a good blend of functionality and design.
Maki Oh
AW15/16 Maki Oh's Autumn Winter 15\16 collection explores the idea of adopted identities as result of West Africa's long history with cultural appropriation. It is an idea that has spun through all Maki Oh collections. Wax print fabric lends itself as the starting point of this research. "As an advocate for all things truly African, Maki Oh uses true African textiles like Adire, Aso-oke, Akwa Ocha, Oja and more to continue to illustrate to the world (and Africans) that we have desirable, couture quality local textiles. Wax print fabric (Dutch Wax, Ankara) does not have it's origins in Africa. It is imported from Holland, India, Turkey, China and even England. But the world, and even some Africans think this fabric is African. Holland's premier wax print producer, Vlisco, on their current website, proudly states inter alia, "Vlisco has been romancing the men and women of Central and West Africa for almost 170 years and has been embraced as the very fabric of life in many societies." #MakiOh AW15/16 now on @styledotcom
Popular for dressing former United States first lady, Michelle Obama, Amaka Osakwe's Maki Oh is considered one of Africa's famous fashion brands. The designer who is known for her use of the indegnous fabric adire will close this year's fashion week.
Lisa Folawiyo
Daze of summer. Somkele wears a Jewel by Lisa hand-beaded Ankara dress embellished with pom poms. Watch our fashion film starring @somkele_i. Link in bio.
When Lisa Folawiyo launched in 2005, she became synonymous with the celebration of the patterns of the ankara fabric with her meticulous use of embellishments. Folawiyo who has showcased since the inception of the Lagos fashion and design week will showcase her collection on day 3 of the show.
DNA by Iconic Invanity
Like Lisa Folawiyo, Nancy Nwadire's Iconic Invanity celebrates the patterns of the African print with intricate embellishments. Her 2016 collection at the Lagos Fashion and Design Week was
described
as "feminine, well tailored and sexy with a splash of bling."
House of Kaya
'Yar Tsauri Collection #houseofkaya #kayawoman #fashion #lfdw #runway
Ibrahim Abdulmumini Aminu's conservative fashion brand brings a fresh look to fashion week. At his 2016 Lagos Fashion and Design Week showcase, his collection featured bright and colourful full-length pieces that accentuate the feminine form whilst being modern at the same time.
Kina Buti
Jojo showing her Fierce in kinabuti | 12W bomber #dream collection #kinabuti AW 18 #afrourban #ethicalfashion #weareallwinners
Caterina Bortolussi and Francesca Rosset's Nigerian based brand will be showing at this year's show. The brand, which launched in December 2010 reflects "the vibrant colours and traditions of Africa" Bortolussi told CNN in 2011.
The designers' SS17 collection featured sporty styles and prints.
Emmy Kasbit
#Repost @lfdw_ng with @repostapp ・・・ Caramel wrap-around suit by one of the 2016/2017 Fashion Focus Five @EmmyKasbit on his muse, @Tunji_Labi — Registration for the 2017 Fashion Focus Talks is now open. To register, click the link in our bio. #FashionFocus #HEINEKENLFDWFashionFocus #HEINEKENLFDW17 #LFDW #STYLEHOUSEFILES #FashionFocusTalks #emmykasbit #menswear #igdaily #ss17
Emmanuel Okoro's Emmy Kasbit will unveil its SS17 collection on day three of the Lagos Fashion and Design Week.
The brand is popular for its structured pieces and a women's wear line that draws on menswear inspired aesthetic.
Read more: http://www.cnn.com/2017/10/25/africa/lagos-fashion-and-design-week-2017/index.html