The calm and popular manager has put Lionel Messi centre stage while turning Neymars departure into an opportunity to recalibrate the teams setup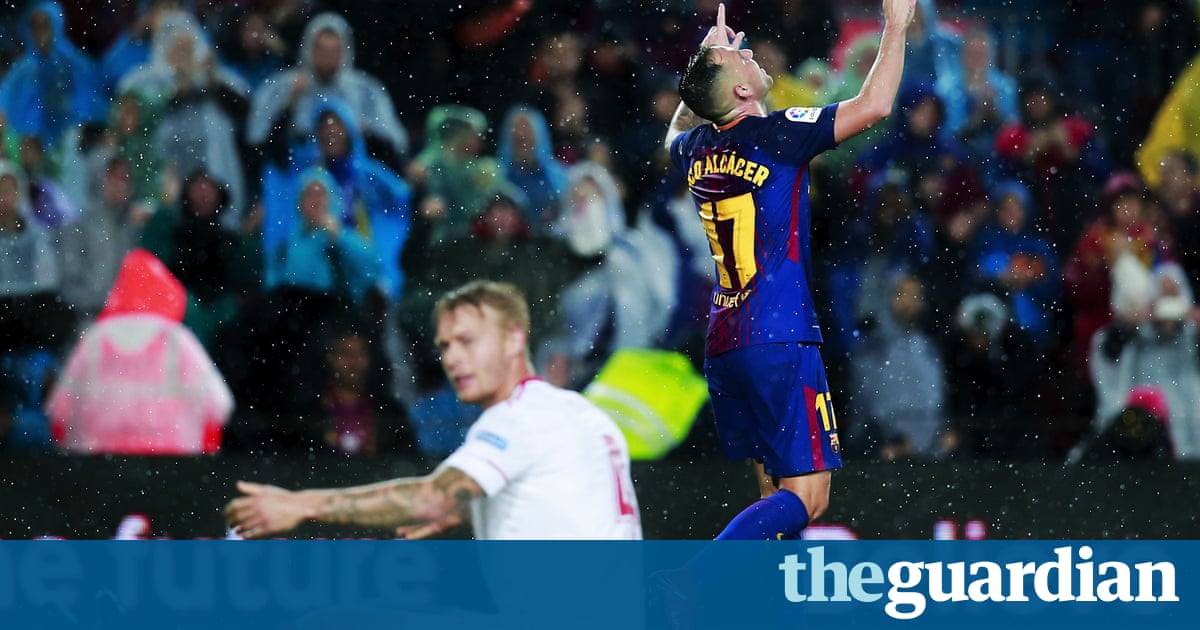 At the start of the season Gerard Piqu admitted that for the first time he felt inferior. Barcelona had just lost the Super Cup: Real Madrid had scored five, Barcelona just one and that was a penalty. Neymar had gone, 11 days after Piqu announced he was staying and 16 days since the vice-president said he was 200% sure he wouldnt leave. Coutinho hadnt come yet and wouldnt come at all. And nor had Marco Verratti, Hctor Bellern, or even ngel Di Mara. Iigo Martnez was done then undone and in Nice, where the walls shook, Jean Michal Seri exploded. In the editors office at El Mundo Deportivo, walls shook too, phones rang and, near midnight, presses stopped, a front page hurriedly changed from Seri Day to No to Seri. Seri said his dream had been broken; for Bara, the nightmare seemed never-ending.
The former president went to jail and the players call the current president Nobito, after a timid, naive and hapless cartoon character whose friend is a robot cat. When, that is, they dont call him worse. Neymar called the board a joke and threatened to take them to court; the feeling is mutual. That very day, he was back in Barcelona posing, all smiles, with the team-mates and best mates he had left behind.
The club he left behind were friends with Qatar, which no one liked much, then they were enemies of Qatar, which no one liked at all. And as for Catalonia, they dont really know where they are: caught in a storm, incapable of pleasing all the people all the time, theyve played in an empty stadium, supporters stopped at the gates while two directors resigned.
Theyre involved in seven legal cases, all carefully laid out before the AGM, accused among other things of tax fraud and an act of espionage. A vote of no confidence was sought against the president, who has listened to chants to resign even on days of celebration, and although the motion failed that wasnt the end of their troubles. There were eight different men deciding signings (two of whom have walked now), but they still couldnt get them done despite, or perhaps because of, the 222m in their pocket. Well sign one or two in the next few days, the sporting director promised; four days later his PowerPoint presentation explained how, actually, he hadnt signed any. Liverpool offered Coutinho 200m, he said; no we didnt, Liverpool replied. The best thing about the window, Barcelonas manager said, is that its closed now.
They did sign Ousmane Dembl but the most expensive player in their history walked off 52 minutes into his league debut and wont be back until Christmas, injuring himself as he tried to do a backheel. A more experienced player wouldnt have done that, his manager said. Their most expensive signing of last summer is also injured now; more to the point, an easy scapegoat, hes still there when many wish he wasnt. Neymar has gone. Luis Surez has gone off: he has not scored for 459 minutes, his worst run at Barcelona. And Leo Messi could yet go: hes 56 days away from being able to negotiate with whoever he wants, for free. Their captain is 33, their centre-back is public enemy No1, until this weekend their backup striker had played just 82 minutes, and their other big signing was 40m 29-year-old from China who failed in England and no one wanted.
And theyre top.
Eleven weeks into the season, Barcelona are unbeaten. Played 11, won 10, drawn one, only Atltico Madrid have taken a point from them. In the Champions League they have won three, including victory over Juventus, and drawn one. In the league they have scored 30 only Valencia have as many and have conceded only four.
Read more: https://www.theguardian.com/football/blog/2017/nov/06/from-crisis-to-topping-la-liga-how-ernesto-valverde-stabilised-barcelona