The model, singer and subject of a new film on Trump, not being allowed to hit people and why she misses Concorde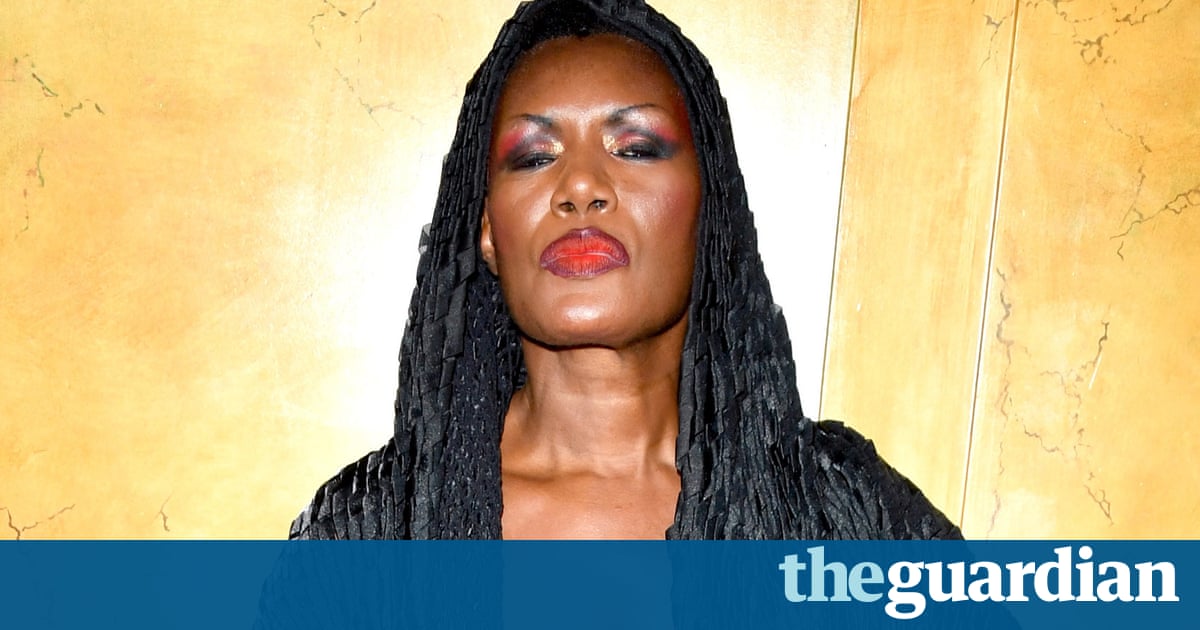 A singer, songwriter, actor and model, Grace Jones was born in Jamaica in 1948. She was brought up by her grandmother and violent step-grandfather and moved to Syracuse, New York, to join her parents when she was 13. In the 80s, she had several hits, including Pull Up to the Bumper, My Jamaican Guy and Slave to the Rhythm, which combined reggae, funk and new wave. She appeared as Bond villain in A View to a Kill in 1985. She had a long-term relationship with photographer Jean-Paul Goude and they have a son, Paolo. Jones is currently finishing off her 11th studio album and has a documentary coming out about her called Grace Jones: Bloodlight and Bami, directed by Sophie Fiennes.
How did you and Sophie Fiennes get along making this documentary?
We hit it off right away; we have the same amount of siblings in our family and weve both always been competitive. Shes like a sister in another life. I like that she just gets it done. It was easy having her around.
In the documentary, you say that you got your creative side from your mum and your religious strength from your dad…
I dont remember a lot of what I say. Sometimes I feel like, Did I say that? Things jump out of my mouth! I got a lot of things from both my parents. My mum [Marjorie Jones, who died very recently] was very fashion, she was like a supermodel, very thin, very tall. She made a lot of her clothes; we still have her sewing patterns from Givenchy, Yves Saint Laurent from the 50s, fabulous. And also she was very big into athletics. In Jamaica, sport is a big part of our lives. My dad was a mystery man to me when I was young [he lived in New York, she lived in Jamaica]. But I remember, my God, he could grow anything. Even in upstate New York in the winter, his roses were the biggest roses on the block. And Im sure I got my music from my mums dad, who was a pianist and toured with Nat King Cole in Miami. I conjure up these spirits.
Your step-grandfather, Mas P, beat you what do you think about that today?
Oh, I think it was awful! I believe that he thought he was doing the right thing. He would try and back me up in a corner and say: Why dont you preach the gospel, become a missionary, a pastor, a nun? And it was all of us, not just me, my brothers as well. Read the Bible, get beaten.
How much are you in control of your work?
I am totally in control of my work. I dont mean I do it on my own I love to work with other people but I choose who I work with. Or they choose me, but I like them, so its fine. When you collaborate, you have to let that person do their thing, otherwise you dont learn anything.
What do you think of President Trump?
Oh please, grow up! Thats all I can say to him. He makes a big deal of sportspeople taking a knee but he doesnt make a big deal of the KKK marching with fire. He calls them fine people. He hasnt shown us his taxes; how can he make a plan for tax if hes hiding his taxes from us? I believe that every presidential candidate should see a psychiatrist before theyre allowed to stand. I truly believe he has brought a whole dark cloud over the world. Climate, immigration, everything We are in a dark period.
How is it being a grandmother?
Its the best. Her name is Athena, shes eight and shes so gifted. She plays classical piano without looking at the keys, shes an amazing dancer and she paints and sings. I love combing her hair. She has the kind of hair where, if you put it in a braid and leave it for two days, it starts dreading like a Rasta, so I comb it with the TangleTeezer.
What does old age mean to you?
Oh God, I never use those words. I just call it wisdom. Time is like a space capsule We are in space, not time. I spend a lot of time in the sea. And Im a sky stalker, I look at the sky, look out. I would love to go into outerspace.
You have said you love to travel. How long do you stay in one place?
In Jamaica, I try to stay one month without moving. I use it as my base in the winter. I want to do a theatre in Jamaica. Im happy not travelling as much as I used to. Travelling is a pain in the ass since 9/11. I used to love it when it was easy, with Concorde. I enjoy being on the plane but not being patted down between the legs and then asked for a selfie. You cant say anything to anyone in the airport. I used to just hit people, but they would call the police now The last trip I took, I had a manicure the day before and it set off a big alert, like it was some kind of chemical weapon. The more I go through that, the moreIdont want to travel, unless yousend me a private plane. But I do have a flying outfit. Its an Issey Miyake utility pilot suit, with all thezips everything stays in thepockets, my credit card, passport, money. Then I put on my leather flying hat and pick up my purse and thats it. Whatever I dont have I dont need.
Maybe you should just drive everywhere
I can drive. But I have no patience with bad drivers so its better that I dont. I honk my horn, I swear. So I drive at night when there is nobody on the road. I need a flying car.
What do you think about fashion and modelling these days?
Im glad Im not doing it now. Id probably be dead. Everybodys so skinny. Size zero is like the walking dead. Not sexy at all. When I modelled, I would normally be a model size six, eight, though my shoulders are wide, its hard to make them fit into things. Now I cant get into model sizes, because theyre really small. When it comes to fashion, Im loyal. I love Issey Miyake, Alaa, Kenzo, Philip Treacy. Im going to open a foundation in my moms name, teaching sewing and creating fashion.
What annoys you about modern life?
How it is round the wrong way. Like, I wait with my son for an Uber. He says: We have to walk to the car, hes not gonna wait for us. And I say: Im not walking to the cab! The cab comes to us! But he wants us to go because the customer is rated. The customer is rated? Excuse me! The world is inside out and upside down! And my son is like: Mom, mom, mom, please just walk to the cab. And I say: No. I feel like Gloria Swanson in SunsetBoulevard.
Grace Jones & Friends Live will be in cinemas nationwide for one nightonlyon 25 October and Grace Jones: Bloodlight and Bami will be in cinemas from 27 October
Read more: https://www.theguardian.com/music/2017/oct/22/grace-jones-interview-bloodlight-and-bami-trump-size-zero-walking-dead