At a mock wedding in a Belfast cabaret club, a groom cries tears of anger. Same-sex marriage is legal everywhere else in Britain and Ireland, so why not here? The answer lies with Theresa Mays partners, the DUP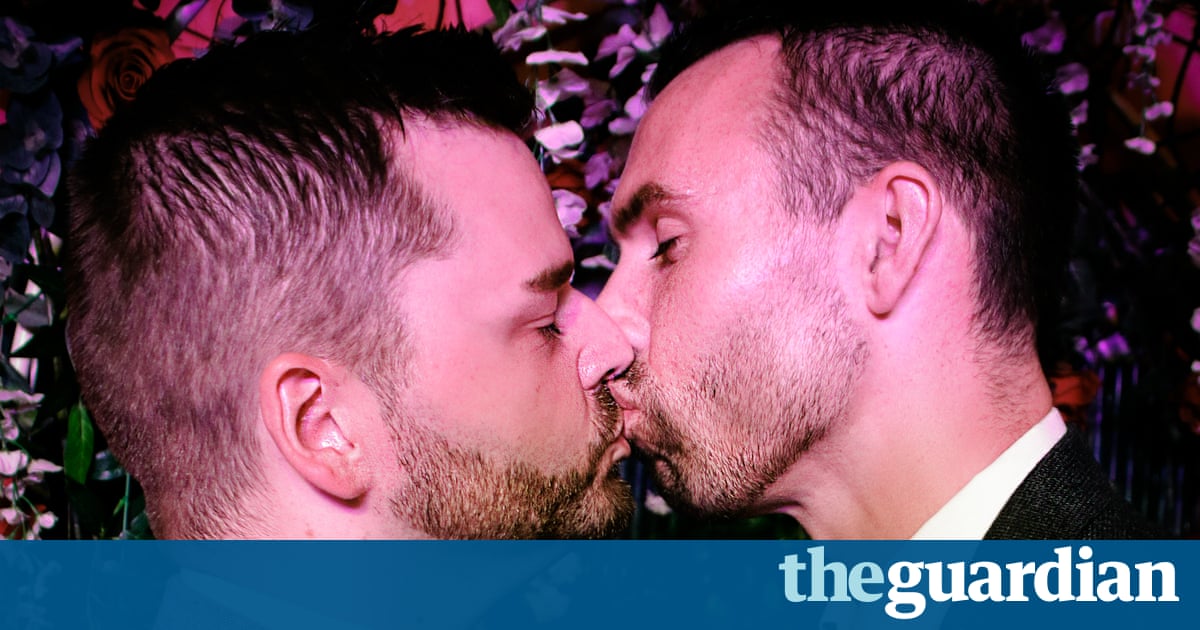 Were going to fight tooth and nail with them. Im done putting on the kid gloves, Im done pretending this is OK. What are we meant to do, wait another 20 years? Shane Sweeney has just exchanged vows with his fiance of two years, Eoin McCabe. It could be the happiest day of his life, but instead he cant conceal his anger.
Their marriage has taken place in a Belfast cabaret club, officiated by a drag queen and witnessed by a room of activists and allies. The mock ceremony is part cathartic art performance, part protest. Shane and Eoin pepper their vows with jokes and laugh along with the audience, but standing in front of family and friends in suits and corsages, the emotional impact of having to fake their own wedding hits home. As they are pronounced husband and husband, one of the grooms wipes tears from his face. Many in the congregation cheer and clap, but others simply cry in silence.
Despite being part of the UK, Northern Ireland outlaws marriage for same-sex couples, and same-sex marriages carried out elsewhere are not recognised here. Marriage is a devolved issue, so only the Northern Irish government can decide whether to alter its legal definition. Same-sex marriage was legalised in England and Wales in 2014, with Scotland following suit a year later. Over the border in the Republic, Irish people voted for legalisation in a high profile referendum in 2015, and, this year, Leo Varadkar became the countrys first openly gay prime minister.
An Ipsos Mori poll last year found 70% support for marriage equality among Northern Irelands citizens. But the unique circumstances of the countrys post-conflict parliament in Stormont means its largest party, the Democratic Unionists (DUP), continue to obstruct its legislative path. Thats the same DUP currently providing Theresa Mays working majority in the British parliament, granting them unprecedented influence on Downing Street.
Stormont uses a parliamentary system designed, ironically, to prevent discrimination against minority and marginalised groups. Parties can effectively veto or obstruct individual pieces of legislation. The DUP has made use of this power five times to block same-sex marriage from being legalised, despite equality having majority support in the chamber since 2015.
The legal differences between civil partnership which is legal for same-sex couples and marriage are minimal in Northern Ireland. Civil partnerships cannot include religious elements in the ceremony, while the grounds for a dissolution cannot include adultery, unlike a marriage. Some bureaucratic documents list separate tick boxes for marriage or civil partnership, effectively forcing individuals to disclose their sexuality.
Whats at stake, couples say, is more than specific legal rights. They want their public representatives to recognise that gay couples are deserving of equal dignity and acceptance. My love isnt second-class and neither should the legal recognition of it be, says Shane.
You cant call your partner your husband, its your civil partner. If youre religious you cant have any of that element to the ceremony. Its the here, this will do you, now be quiet nature of civil partnerships that sticks with me, he adds.
Shane and Eoin have been together for five years. Like many LGBT couples here, they are running out of patience and options. Wedding invitations wait unsent, dresses hang in the back of wardrobes. Shane explains that they feel like second-class citizens, denied by Stormont and ignored by Westminster.
We get asked a lot when are we setting a date. My response is always the same: whenever its legal, he says. I do get frustrated at times. I wouldve loved our grandparents to be there but they are quite elderly now, and I dont know if they will be around, which is quite upsetting.
This is my country, my home, so why do I have to be separated? I live here, I pay my taxes, Im governed by Westminster, so why do I not have the rights of someone in England, Scotland, Wales. Am I different?
Eoin agrees. We had a really good time tonight, but ultimately weve had to stand up there and try to prove to people that we have worth, that were the same as you. No straight people have to do that and thats the frustrating part.
The DUPs stance is unwavering. The party (which did not respond to requests for interview) has become notorious for homophobic pronouncements by its politicians. In 1978, its founding father, Ian Paisley, led the Save Ulster from Sodomy campaign against the decriminalisation of homosexuality (decriminalisation came into effect in 1982, 15 years after England and Wales). More recently, its politicians have stated that same-sex relationships are worse than paedophilia; have called homosexuality repulsive, unnatural and harmful to society; and suggested that God sent Hurricane Katrina as a punishment for LGBT rights. The party has opposed same-sex couples being able to adopt and objects to men who have sex with men being allowed to donate blood.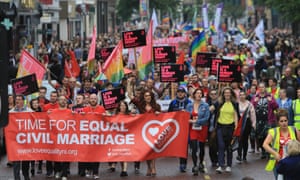 Read more: https://www.theguardian.com/inequality/2017/oct/19/my-love-isnt-second-class-struggle-marriage-equality-northern-ireland-dup