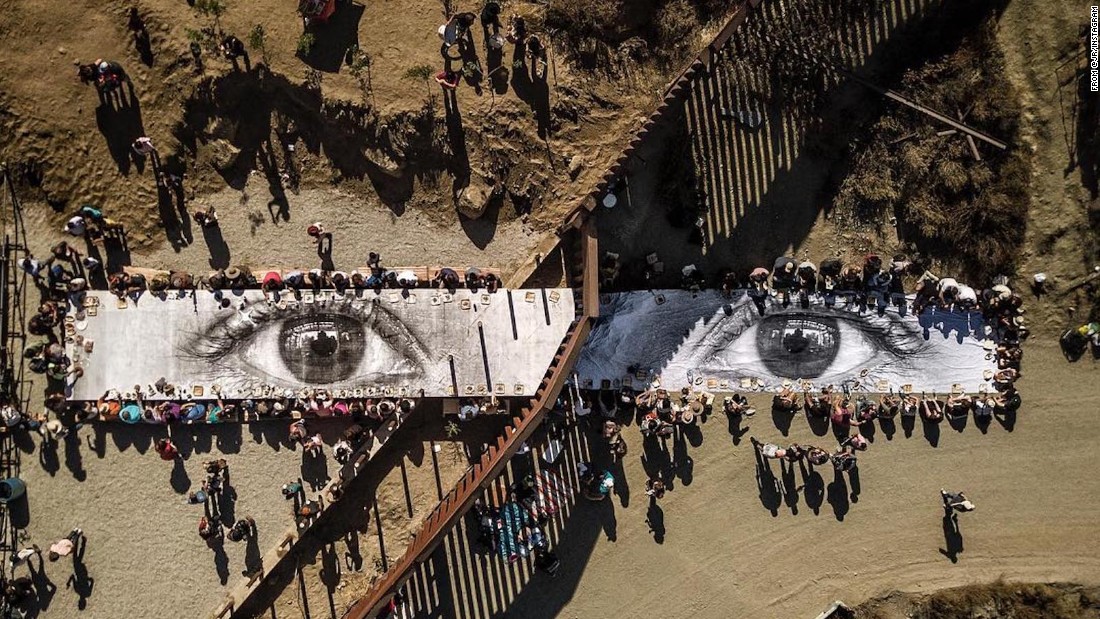 Mexico City (CNN)As the Trump administration eyes the border wall, so does an elusive French street artist.
In a post on his Instagram, people are sitting on benches at the "giant picnic," as he calls it. "[P]eople eating the same food, sharing the same water, enjoying the same music (half of the band on each side) around the eye of a dreamer," he says.
Thanks to all the daydreamers that joined us yesterday 🙏 #PicNicAtTheBorder 📷 @marc
President Trump rescinded the Deferred Action for Childhood Arrivals, or DACA, program in September. The program was enacted through an executive order by President Barack Obama in 2012. However, the administration also has given Congress a six-month window to find an alternative to protect those 800,000 Dreamers, undocumented immigrants who were brought to the United States as children, to remain in the United States.
JR expected the dining table to be brought down, saying he thought the picnic "was clearly forbidden." Instead, one of his co-artists, Mia Maestro, posted a video of herself bringing tea to a US Federal Agent on one side and JR on the other side. The two stand with the copper-toned pillars of the wall between them. JR asks the border agent, "Will you share tea with me now?" The agent replies with a small smile as the two clink their cups with a "salud" from the artist.
Over the many bowls of tea I've served this has been one of the most memorable ones. Tea at the border of México & USA. A Bowl for the Dreamers 👁 THANK YOU @JR for making us part of this incredible day ✨ #migrationisahumanright ・・・・・・・・・・・・・・・ #Repost @jr For the last 10 years, I have been working in conflict zone, jails, borders and I always found an « angel » that helped us make the impossible possible … The picnic today was clearly forbidden, and yet it was not shut down. It's always worth trying 👁 📷 Roberto De Angelis & Tea by @miamaestro
The neighbors at the both sides of the border broke bread together Sunday, the same day the White House released an aggressive list of asks, including tough border security and immigration enforcement measures, for a DACA deal.
The street artist is known for his oversized installations, most recently of a 1-year-old named Kikito who overlooks the US-Mexican border from the Mexican side. During the 2016 Rio Olympics, large installations of swimmers, divers and other athletes popped up across the city.
"Thanks to all the dreamers that joined us yesterday," JR said on Instagram in his last post from Tecate.
Read more: http://www.cnn.com/2017/10/10/us/border-wall-picnic-trnd/index.html