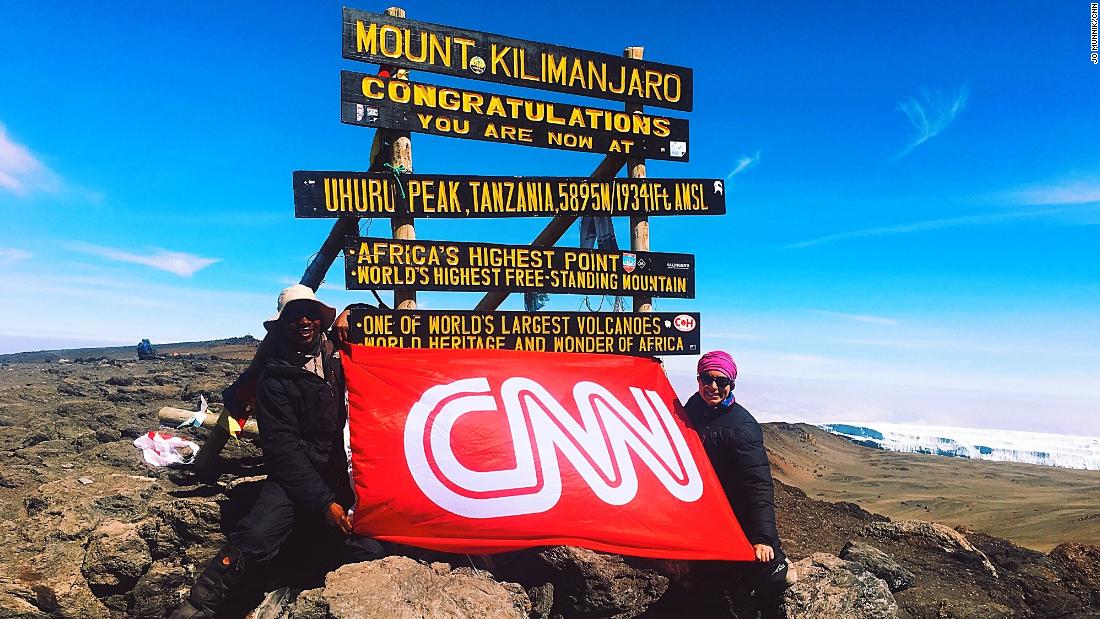 (CNN)Flying into Tanzania from Nairobi, Kenya, the top of Mount Kilimanjaro comes into view. Its height appears level with the airplane's wing. Cameraman, Nick Migwi, and I stared out of the window in disbelief — what had we signed ourselves up for?
For the next week, we would follow the journey of South African animal welfare organization, the Sandton SPCA, as a group of twenty of them tackled Kili for a cause. Sean Disney, one of South Africa's most accomplished mountaineers who had climbed Kilimanjaro 22 times, led the expedition.
If all went well, by the end of the week, Nick and I would not only summit with them, but also film the story as they reached Uhuru Peak, Africa's highest point.
From a technical point of view, batteries, computers and hard drives do not do well in extreme temperatures and altitude. They just die. At one point, I even had drone batteries strapped to me underneath my clothes in a bid to keep them warm.
From a physical and mental point of view, you're climbing the highest freestanding mountain in the world. It's super-tough, especially the summit, but we'll come back to that. The biggest risk however is altitude or mountain sickness. This had our editorial and security teams most worried. It's caused by a lack oxygen at high altitudes and can be enormously debilitating. In a worst-case scenario, it can even cause death.
As we arrived at base camp, ahead of starting our seven-day journey on the Rongai Route, a team of about eighty accomplished mountaineers, guides, porters, cooks and various other support staff greeted us. Between them, they would literally carry everything we needed from tents to food up the mountain.
This incredibly impressive group was led by Nestor, a fifty-three-year-old Tanzanian man who had climbed Kilimanjaro over two hundred times. Prior to arriving, I heard a rumor that the mountaineers' place bets on which climbers will make it to the top. I asked Nestor about this during our first conversation — he sheepishly laughed and nodded that it was indeed true and followed it with some sage advice: "pole-pole," which in Swahili means "slow-slow," the mantra of the mountain.
The day before, the sight of the mountain from the airplane window had me doubt whether I could make it all the way up there, but now I wanted Nestor and his bucks to back me. In our group of twenty-two, including Nick and myself, only two people wouldn't make it to the top.
We started our trek on a Sunday. We hiked an average of five hours a day, and for as long as eight hours on some days, zigzagging our way towards high camp, from where we would start our final ascent towards the summit. As the oxygen decreased, so did our speed. The scenery and temperatures changed dramatically as we made our way through five different ecosystems, from lush forest to Mars-like terrain.
Each night we camped in tents at a different location. The saving grace at the end of the day was a bowl of warm water, soap and a face cloth, with which you could try to wash your entire body — it required a good imagination. Every morning, Sean would test our blood oxygen levels and heart rate to ensure we were healthy enough to keep going. And as we climbed higher, Nestor's team would make us ginger tea to help with the altitude, and popcorn (because, popcorn).
On day five, Thursday, we made our way over five hours climbing another 3,300 feet in altitude, towards Kibu Camp. From here we would make our ascent to Mount Kilimanjaro's summit. We set off at 01:00 Friday morning, and for the next four hours, you simply watched the feet of the person in front of you, one step at a time, going "pole-pole." Headlamps dotted the winding path ahead of us. The stars lit the sky like a stairway to heaven. Surely at the top of Africa we were bound to meet God.
The first four hours were freezing, dark and disorientating. As the air got thinner, breathing became more difficult. By the time you approach 19,700 feet in altitude, you're effectively operating on one lung.
Along the way I saw many other climbers stop as they succumbed to the effects of altitude sickness; some were even being rushed down the mountain. At just past 05:00, the sun came up over Kilimanjaro's Mawenzi Peak and the most magnificent hues of orange flooded across Kenya and Tanzania.
What I did not know is that the next four hours would be much harder — partly because I was exhausted, but mostly because I could now actually see how far I still had to go. I had a brief moment where the thought crossed my mind that maybe I wouldn't make it. But then, I remembered, Nestor had money on me. I then realized that Nick was not behind me. This was not a good sign and meant I would have to make it to shoot the SPCA's summit.
The higher we got, the slower we moved. At one point I wasn't sure whether I was awake or dreaming. Nestor caught up with me and with two other mountaineers guided me step-by-step, the final stretch, to the summit. It was the hardest thing I have ever done. But standing at the very top of Africa, as an African, it was worth all of it. Looking out over the glaciers and clouds, the words of Nelson Mandela came to mind: "It always seems impossible, until it's done."
Read more: http://www.cnn.com/2017/11/24/africa/inside-africa-kilimanjaro-climb-diary/index.html