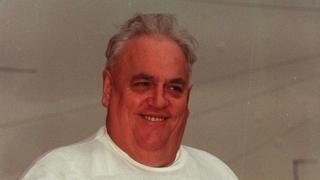 Cyril Smith had hands "like weapons" and used "medical examinations" to "fondle" him, an alleged abuse victim told an inquiry.
The witness told the independent inquiry he had been "spanked" by the late MP while he lived at Cambridge House in Rochdale in the 1960s.
He said Smith was "involved in everything" at the hostel.
The hearings are examining the late MP's alleged abuse of young boys in Rochdale care institutions.
Cyril Smith 'at alleged victim's wedding'
Cyril Smith 'a puppet master abuser'
MI5 'told of Cyril Smith abuse case lie'
The witness described being sexually assaulted by the politician.
"He said 'Take your pants down I want to give you a medical examination'…then he started stroking me.
The man told the inquiry he was 15-years-old and very scared, adding: "He was Cyril Smith. What could I do?"
'Big, fat, flabby'
On another occasion the witness said he and a friend had skived off work to spend the day in Manchester.
When he returned to the hostel Smith was waiting.
He said: "[I was] taken into the quiet room and had the same [medical] examination again. Then a spanking. Obviously big, fat, flabby hands, bang, bang, bang."
If you ever saw those hands they were like weapons, he added.
"He made me take my trousers down. After he spanked me he started stroking me. Saying 'There, there it's alright' but I was crying. He really hurt me."
On another occasion the witness said he was in "severe pain, vomiting and high temperature".
He asked for an ambulance to be called but "then Cyril Smith turned up".
The alleged victim said: "He started prodding around and fondled me…and said 'There's nothing wrong with him'."
But the man was later taken to hospital and found to have a ruptured appendix.
Smith never faced prosecution before his death in 2010, despite enduring a political career dogged by police investigations and accusations of sexual abuse.
The alleged victim expressed anger at the amount of time it took for his allegations to come to light.
"How did he get away with it? Why did people turn a blind eye?" he said.
The inquiry continues.
Read more: http://www.bbc.co.uk/news/uk-england-manchester-41582256