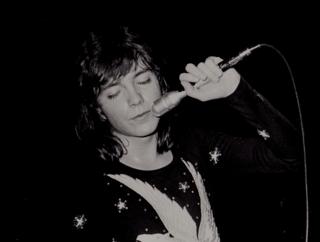 There has been an outpouring of emotional tributes to the US singer and actor David Cassidy, the 1970s teen pop idol who died on Wednesday.
At the height of his fame, he had a huge fan club – bigger than those of The Beatles and Elvis Presley.
Here, you have been sharing your stories of your encounters with the former teen heartthrob.
Special memories
Sandra Burnham from Bristol: "From the moment I caught my first glimpse of David I was in love.
"One of the best days of my teenage years was going to see him at the Empire Pool – now called Wembley Arena. Travelling from Bristol on the train with a friend, we arrived to a sea of screaming girls. I clearly remember the crush to get inside and being carried along in the crowd, my feet not touching the ground.
"I needed to get to the front! I left my seat and my friend and made my way down the aisle between the blocks of seats. Others had the same thought and the aisles soon became full.
"There were barriers and security guards to stop fans from getting through, however, I quietly made my way to each barrier and waited until the guard was sorting out another screaming or fainting fan and slipped through, eventually making my way to the very front. But of course, he didn't notice me."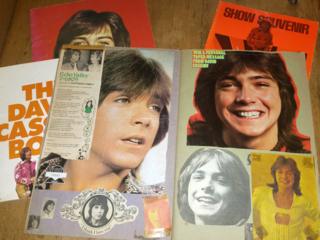 "I am now 60 years old and in the process of moving house. Consequently, I have been clearing the loft but nothing could make me throw out my David Cassidy scrapbooks, a record of those wonderful innocent teenage years and my one and only true heartthrob.
"To hear today that he has passed away is so sad and I find myself more upset than I would have expected. I will always keep these special memories in a corner of my heart reserved for David."
Jan Barber from Bristol: "I was gutted when as a teenager my mum wouldn't let me go to London to see David Cassidy arrive at the airport. But many years later I saw David Cassidy perform on his 52nd birthday at the Hammersmith in London in 2002 and waited outside afterwards.
"He came out onto a balcony with his son Beau. Somebody came over who had been to his party after the show and asked who his biggest fan was. I shouted the loudest and she gave me a piece of his birthday cake which I shared with several other fans. I kept that teeny piece of cake for years."
A huge star
Richard Sacks from Hampshire: "I photographed David Cassidy at Wembley in the seventies in front of screaming teens. I was working for a group of magazines which included the official David Cassidy Magazine.
"I vividly remember seeing him backstage being rushed out into a van after the gig by four security guys with screaming fans banging on the doors as they drove off."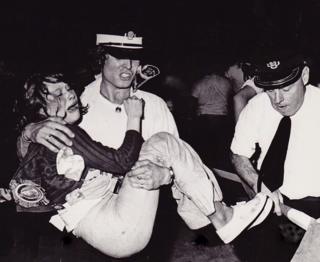 "I took a photo of a girl being carried out of his concert in Wembley due to people being pushed against the barriers in front of the stage.
"He was that popular. He was huge."
Carol Morton from Reading: "David Cassidy was my idol.
"He was my first concert experience when I was 15 in 1973 at Wembley. He sat on the edge of the stage to sing Tears of a Clown. When we came out in the masses of girls I lost my David Cassidy "rosette" and my dad had to go back and get me another one as I was in pieces.
"Many years later, in 1987, I saw him in the musical Time in London. We went to the stage door after the show but for some reason I thought I would walk around the theatre.
"I saw a Jaguar going very slowly down the side and wondered if it was for him. I grabbed the opportunity and ran towards him. He looked a bit like a startled rabbit but calmed down when he realised it was only me and about half a dozen others who had also caught on.
"I finally got my idol's autograph and my photo taken with him."
Magical time
Sian Holland Clarke from Wales: "I attended a David Cassidy concert in Manchester in 1973. It was a magical experience.
"With two others, we found out which hotel he was staying at and on the way home, stopped there and stood outside in case he came out. A journalist with a photographer turned up. The entrance was a glass foyer and the photographer stepped inside. The journalist asked us all to bunch up and reach out pressed to the glass.
"The three of us were picked to sit in the car and be interviewed. That night it was announced on Radio Luxembourg that the interviews would be in the Daily Mirror. I was going to school the next day and a little embarrassed that my picture and interview would be seen by my schoolmates.
"We did get to see David leaving in a car in the end. He waved to us."
By BBC UGC and Social News team
Read more: http://www.bbc.co.uk/news/entertainment-arts-42085015